Victoria's newest Children's Museum, MoPA: Museum of Play and Art has opened its doors in the heart of Geelong. The iconic Wintergarden building has been transformed into an immersive play space for children aged 1 to early primary, and their families.
My kids and I headed down to Geelong to check it out. We were welcomed by Tom Mahon (co-director of MoPA) and a friendly group of educators. First impressions when you walk-in, you can see the attention to detail on all aspects of the building. Every play space has been carefully designed and planned. Bright playful colours fill the space, the graphics have been beautifully laid out to bring the space to life.
Advertisement
The play-based-learning offered by the Museum is not only loads of fun but has also been aligned with the Early Learning Framework for Kindergarten aged children and with the Victorian Curriculum for Children in early primary school.
"All the exhibits and activities at MoPA were inspired by the worlds' best Children's Museums. They have been designed, engineered then crafted by designers, craftspeople and artists from all over Australia. We're so proud of just how much of this Museum we managed to build right here, on-site in Geelong."
Thomas Mahon and Billie Georgieff, co-directors of MoPA
Advertisement
The Museum has been designed to encourage kids to explore, create, play and experiment together with all the features of the Museum.

Museum features include:
Soft Play & Mosh Pit
This area has been designed to support the development of a toddler's fine-motor skills, whilst also incorporating creative block assembly and identity building sculpture.
Sound Tubes
Kids can explore the different sounds that echo out of the sound tubes. Each tube has a different sound – beach sounds, rainforest sounds and more.
Sunset City
Kids can climb through a brightly coloured cityscape and enjoy an impressive view of the entire museum from the top.
Wind Wall
Kids of all ages can have fun at the wind wall, watch as small scarfs are placed in a wind box and pushed through the pipe wind tunnel, then catch the scarf when it flies out the top. This was my son's favourite play-based activity.
Zoom Room
If you love racing cars and playing with LEGO® this is the place to be. Giant ramps have been bolted to the walls and the ground to allow kids to race small cars down them. This was a lot of fun, they even had Simpsons LEGO® to play with.
MoPA Art Car
The MoPA VW bug car is becoming a favourite feature of MoPA. Certain times of the day, kids can line up to take turns painting this gorgeous VW.
Interactive Wall
The museums' interactive wall is a lot of fun. Kids can play and explore with lots of different elements. Stand in front of the mirror and see your face turn into a Picasso painting, or look at the Mona Lisa painting and watch her face features change to mimic yours.
The Star Studio
Calling all little performers! If your kids love dressing up and performing on stage, they'll love this space. Kids can watch themselves performing live on the TV screen.
Quiet Spaces
MoPA has some great low-sensory spaces throughout the Museum. They have a room where kids can sit and colour in a masterpiece or head upstairs to a calm reading space with beautiful views overlooking Geelong.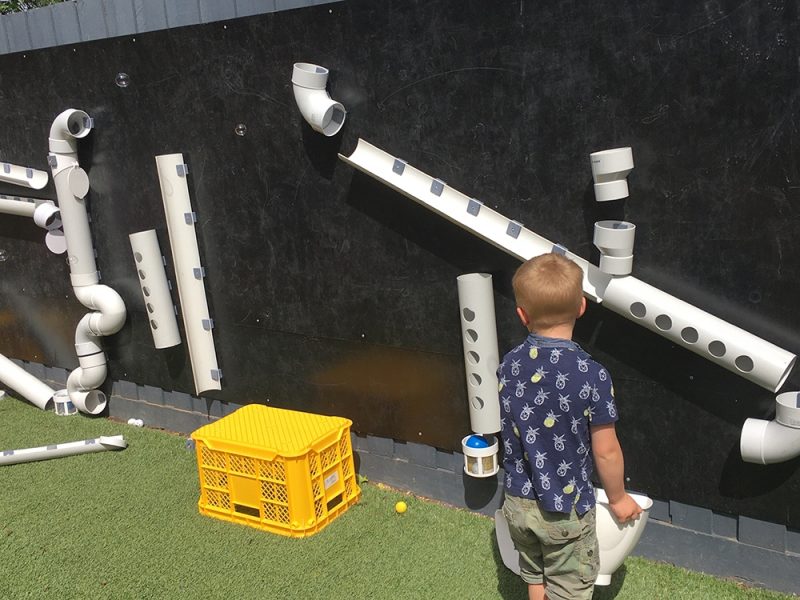 Outdoor Space
There's a lovely outdoor space at the Museum, where families can sit on a picnic rug, kick the balls around or play with the magnetic plumbing pipes ball game. At the end of our play session, the staff brought out bubbles so the kids could use nets to catch them all.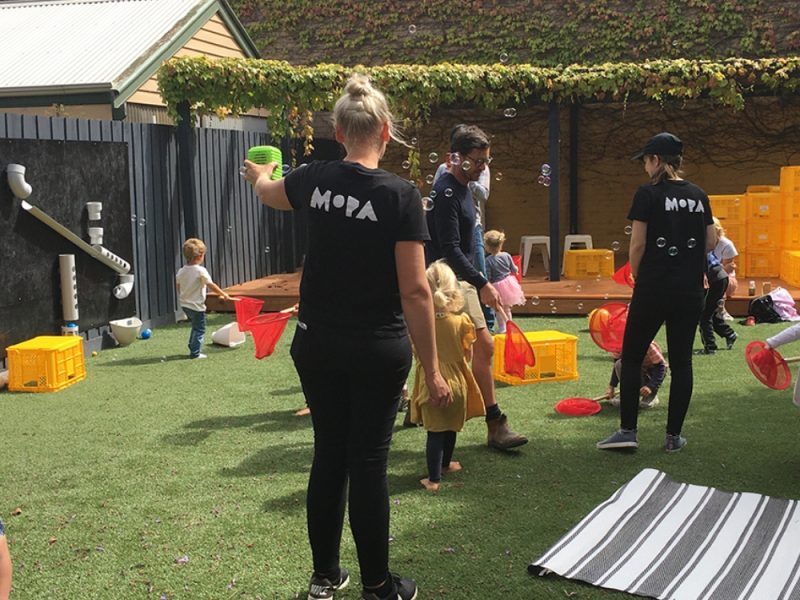 There are so many amazing play spaces to explore in this incredible Children's Museum. I only wish I lived closer so I could go more often.
MoPA offers General Admission Play sessions, Memberships and Birthday Parties, but also Educational Programs for Kindergarten and School excursions, and an After Dark series in partnership with Deakin University, that will see parents network, create, learn and discuss a huge range of complex and important topics concerning parents today.
To ensure every visitor's experience is comfortable for everyone, entry numbers are limited and visitors are advised to book in advance on MoPA's website.
MoPA: Museum of Play and Art
Time: 9.30am–4.30pm
Play Sessions: Morning: 9.30am–11.30am, Midday: 11.30am–1:30pm, Afternoon: 1.30pm–3.30pm (families must arrive during the time that they book in, there is no limit to the duration of your visit)
Open: Tuesday – Sunday (closed Mondays)
Location: 51 McKillop Street, Geelong
Price: infants (0–12 months) Free, Kids (1–18 years) $14, Adults (18+years), Seniors $8, Family (2 adults + 2 Kids) $44
More information
Book tickets
We try our best to provide accurate information on kid-friendly events around Victoria, but we do recommend that parents check details directly to confirm dates, times, prices as some details may be subject to change.